NTU Singapore and Ben-Gurion University Ink Partnership to Combat Advanced Cyber Threats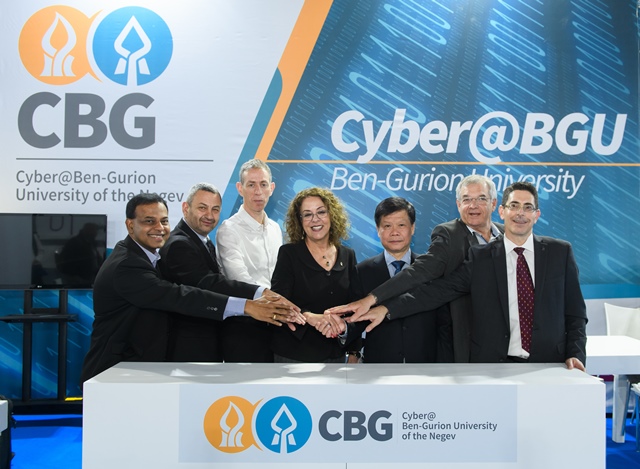 Nanyang Technological University (NTU Singapore) and Ben-Gurion University of the Negev (BGU) are collaborating to find innovative ways to counter cyber threats.
The aim of the joint research project, called the Bio-Inspired Agile Cyber Security Assurance Framework (BICSAF), is to develop innovative technologies for tackling Advanced Persistent Threats. These are stealthy and continuous computer hacking processes run by individuals who target specific entities, such as private organisations and state agencies. Their long periods of covertness make it difficult to detect such threats with current technology.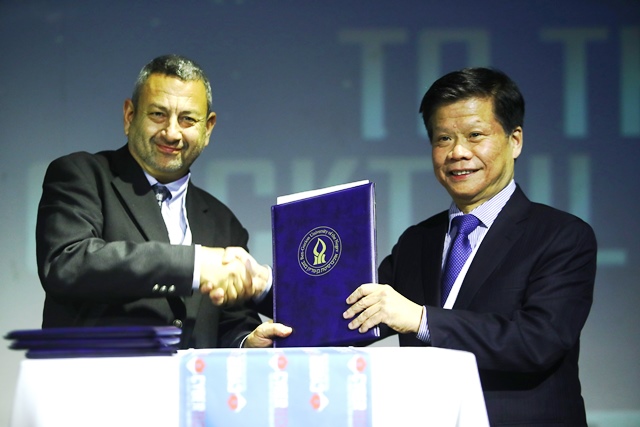 NTU Chief of Staff and Vice-President of Research Prof Lam Khin Yong and BGU Vice-President and Dean of Research & Development Prof Dan Blumberg signed the joint research agreement at the CyberTech Conference in Tel Aviv yesterday (pictured above – photo Credit: Gilad Kavalerchik). Israeli Prime Minister Benjamin Netanyahu was the conference's guest-of-honor earlier in the day.  
The project will have S$3 million in joint funding from NTU, BGU and the National Research Foundation (NRF), Prime Minister's Office, Singapore. The collaboration is supported by NRF through its National Cybersecurity R&D Programme.  In collaboration with the Cyber Security Research Centre at NTU, the new initiative will be led on the BGU side by Cyber Security Research Center director Prof. Yuval Elovici, and Dr. Rami Puzis of the Department of Software and Information Systems Engineering. In developing new technologies to counter cyber threats, the two partners are inspired by the ability of the human body's immune system to adapt to and fight ever-evolving bacteria and viruses.  
Prof Lam Khin Yong said, "Through this partnership, NTU and BGU will be able to develop innovative methods for combating one of the most complicated problems in cyber security – Advanced Persistent Threats (APTs). This project will leverage NTU's strong hardware-based research expertise and BGU's software-based core competencies to combat this intractable problem."  
NTU has invested heavily in its cyber security expertise in recent years, including a S$2.5 million partnership last year with BAE Systems to jointly develop next-generation cybersecurity solutions.  
BGU has deep expertise in cyber security research and is at the heart of efforts to turn Beer-Sheva into a national and international cyber hub. Prof Dan Blumberg said, "BGU and NTU recognise the grave necessity of stopping Advanced Persistent Threats (APTs), which are some of the hardest cyber-attacks to detect, and have allocated significant funding over two years to develop early detection methods.  Cyber security is a global threat which has become a research topic of increasing interest at BGU and we are pleased to be collaborating with our partners in Singapore to stem the tide."
Mr George Loh, Director (Programmes) of NRF and Co-Chair of the National Cybersecurity R&D Programme Committee , said, "Singapore has established a holistic national cybersecurity strategy that will support our Smart Nation vision and enhance Singapore's standing as a trusted digital hub. It is critical for Singapore to develop strong cybersecurity capabilities to protect our critical infrastructures such as our public transport systems, public safety systems, and energy systems, which are interconnected elements contributing to the quality of life for Singaporeans.  
"The collaboration between NTU and BGU will explore novel ideas to develop cyber-immune technologies to fight external adversaries that launch cyber-attacks on our critical systems, much like how our biological immune system works."    
The Department of Software and Information Systems Engineering at BGU is the largest in Israel, with significant resources devoted to cyber security research.  BGU also set up the Cyber Security Research Center with the Israel National Cyber Bureau to identify risks while protecting critical national infrastructure.
A research-intensive public university, Nanyang Technological University, Singapore (NTU Singapore) has 33,500 undergraduate and postgraduate students in the colleges of Engineering, Business, Science, Humanities, Arts, & Social Sciences, and its Interdisciplinary Graduate School. It also has a medical school, the Lee Kong Chian School of Medicine, set up jointly with Imperial College London.
NTU is also home to world-class autonomous institutes – the National Institute of Education, S Rajaratnam School of International Studies, Earth Observatory of Singapore, and Singapore Centre for Environmental Life Sciences Engineering – and various leading research centres such as the Nanyang Environment & Water Research Institute (NEWRI), Energy Research Institute @ NTU (ERI@N) and the Institute on Asian Consumer Insight (ACI).  
Ranked 13th in the world, NTU has also been ranked the world's top young university for the last three years running. The University's main campus has been named one of the Top 15 Most Beautiful in the World. NTU also has a campus in Novena, Singapore's medical district.
Singapore's National Research Foundation (NRF) is a department within the Prime Minister's Office. The NRF sets the national direction for research, innovation and enterprise (RIE) in Singapore. It seeks to invest in science, technology and engineering, build up the technological capacity of our companies, encourage innovation by industry to exploit new opportunities that drive economic growth, and facilitate public-private partnerships to address national challenges.
Under RIE2020, the NRF is committed to create greater value in Singapore from our investment in research, innovation and enterprise through 1) closer integration of research thrusts, 2) stronger dynamic towards the best teams and ideas, 3) sharper focus on value creation, and 4) better optimised RIE manpower.